Permissions and privacy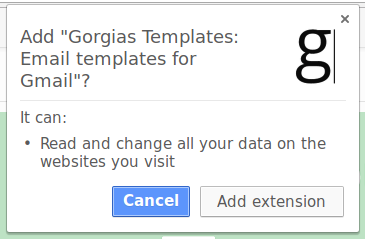 If you're wondering why Gorgias Templates needs permission to "Read and change all your data on the websites you visit" you're in the right place.
Why we need such a permission in the first place? 
We need it because it allows us to manipulate the content on the website you use Gorgias Templates for. For example when you insert a template via a keyboard shortcut that's considered a change to the website. If we want variables to work (Example: To first name) then we have to read the content of the website and then use it when inserting the template.
Why do we need this permission on all websites?
A lot of our customers use Gorgias Templates inside their intranet services. In fact, Gorgias Templates works on most websites and it would be impossible to enumerate them all. 
Since there is no way to allow the extension only on specific websites when it is used, but rather the permission is asked a single time on install we are asking for all websites instead. If the Chrome team decides to change this behavior then we'd be happy to follow.
Do we read your emails or your bank stuff?
No. Read our privacy policy.
Can you blacklist the extension from certain websites?
Yes. You can in the Denylist section in the settings. 
You can find more information about our privacy policy here: https://www.gorgiastemplates.com/privacy
---
---